Ceramic Corrosion Resistant Coatings
Anderman Ceramics offers a selection of high performance and revolutionary refractory coatings and corrosion resistant coatings. Also, abrasion and chemical resistant coatings products, which can be applied in a large range of materials and components used in different industries.
In most worldwide industries, damage to equipment and machinery due to abrasion, corrosion and chemical attack is a serious issue. Research has shown that up to 70-80% of all equipment failures are as a result of surface erosion. For this reason, there is a requirement for a method of maintenance which will prevent further surface erosion, and that method is Alumacoat.
This polymer based ceramic coating compound has been specially designed as corrosion and abrasion resistant coating. It will also withstand chemical attack, and the two variations which can be applied by a variation of different methods will provide resistance up to 150oC, so are ideal for any industry where abrasion and corrosion are a serious problem.
Main industries served
Mining and minerals
Food
Shipping industry
Power Industry
Cement industry
Chemical industry
Gas industry
Nonferrous Metal industry
Iron and steel industry
Pulp and paper industry
Protection is the best insurance against corrosion and abrasion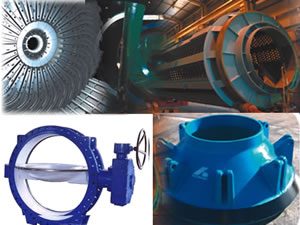 Our range of high quality products offers effective protection against corrosion, abrasion and chemical attack which are responsible for the destruction of a large amount of equipment every year.
According to research, around 80% of equipment failures are due to surface erosion. Therefore the need for effective preventive maintenance is imperative.
Aluma Coat is a revolutionary corrosion, abrasion and chemical resistant ceramic coating, which can be applied to a wide range of materials and components in lots of different industries. Both variations of Aluma Coat are 2 part epoxy resin based coating compounds, which are designed to withstand corrosion, abrasion and chemical attack, and whilst one variation can resist moderate impact, the other will withstand turbulence.
NB – Minimum order quantities apply.
Variations
Aluma Coat TW (Trowellable) – Converts soft surfaces to corrosion and abrasion resistant, can be applied on any surface such as ferrous and non-ferrous metals, stone, concrete, wood, etc.
Aluma Coat BR (Brushable) – Can be applied by brush or spray, can be applied to steel structures prone to corrosion caused by saline atmosphere, liquid and chemicals. Aluma Coat BR has worldwide food grade approval use.
Key features and benefits
Aluma Coat can be applied by multiple different methods and to any surface. Corrosion, abrasion and chemical resistant, withstands moderate impacts (TW) and effectively protects surfaces against turbulence (BR).
Resist temperatures up to 150oC and it's very easy to apply.
Advantages
Resist temperatures up to 150
Withstands moderate impacts (TW)
Protects surfaces against turbulence (BR)
Can be applied to many surfaces
Corrosion resistant
Abrasion resistant
Chemical resistant
Ease of application
Main applications (TW)
Bucket Elevators
Cyclones
Chutes
Hoppers
Bins
Ducts
Mineral processing and industry
Main applications (BR)
Gypsum chutes in cement industries
Demineralised water treatment plant
Effluent treatment plants in chemical, fertiliser and sugar industries
Saline water carrying, pumps and equipment
Corrosive chemical handling equipment shafts and tanks
Chemical resistant floorings
ESP Ducts repairs in cement plants
Pulp and paper industry concrete bleaching tanks
ID fan housing
Coating of butterfly valve in ship building industry
Solar water heating tanks
Approved for food industry applications
Preparation
1KG Aluma coat BR covers 0.7 M2 area at about 1MM thick coat.
Apply via spray, brush or trowel depending upon variation and allow curing for at least 24 hours at room temperature.
1KG Aluma Coat TW covers 0.1 M2 area at about 5 MM thick coat.