Pressed and formed ceramics, industrial ceramic shapes, custom parts and components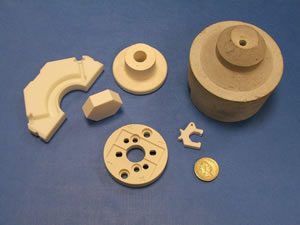 We are specialists in formed and pressed ceramics and industrial ceramic shapes and have a network of high quality partners, giving us the ability to utilise the ideal forming process for the required business need and application.
Formed ceramics are ideal for applications that require repeatable quality / dimensions such as simple or complex shapes, thermal or electrical isolating requirements or chemical resistance.
Forming of ceramic materials into shapes can be achieved by a variety of methods, including slip casting, injection moulding, isostatic and mechanical pressing.
Formed and pressed ceramics
Slip Casting
Good for thin wall complex shapes
Best suited for low to medium production
Low up-front investment
Less well suited where surface finish or tight tolerances are critical
Injection moulding
Best suited for medium to high volume production
Good surface finish and accuracy
Mainly suited to small complex shapes
Isostatically pressed ceramics
uniform internal structure
Tight tolerance on the former side but remainder requires a high tolerance.
Ideal for high quality machining blanks
Ideal for low to high volume production
Mechanical pressed ceramics
Both wet and dry processes
Mid to good tolerances
Complex shapes
Can be automated for high volume production
Process and finish
Process selection is important for formed and pressed ceramics and industrial ceramic shapes. Based on quantity, finish and accuracy requirements the correct process will yield the most economic results for the customer.
We are also able to offer items with part glaze or fully glazed finish if required.
Formed and pressed ceramic components can achieve a tolerance accuracy of +/- 1 to 1.5%, Sometimes better. Where tighter tolerances are required then it is often recommended to start with a formed shape and machine this rather than using a typical machining blank.
Typical formed ceramic products
Igniters
Thread and wire guides
Furnace element support spools
Wear resistant and ballistic tiles and rods
Electrical insulators, feed thru's and shoulder bushings
Anderman Ceramics have extensive experience with all of the main processes and are able to tailor both the material and the process to provide the customer with the correct part.
Custom formed ceramic components are a cost effective way of providing specialist Thermal or electrical isolation and can be delivered in any quantity.
Low, medium and high volume manufacture
Complex shapes
Multiple forming techniques available
Low cost tooling possible (dependent on size, shape)
Machined to tight tolerance and finish where required
Applications
In a range of materials:
Alumina
Zirconia
Mullite
Silicon Carbide
Steatite
Other advanced materials
Example Industries
Domestic Appliance
Heat Treatment
Instrumentation
Electrical
Chemical
Petrochemical
Wear Resistance
Contact us now to discuss how pressed ceramics could be the right solution for you.