Furnace Repair and Construction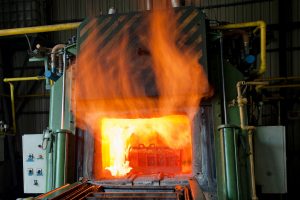 An industrial furnace, also known as a direct heater or a direct fired heater, is a device used to provide heat for an industrial process, typically higher than 400 degrees Celsius. They are used to provide heat for a process or can serve as a reactor which provides heats of reaction.
Furnace designs vary as to its function, heating duty, type of fuel and method of introducing combustion air.
In general there are four main types of furnaces: natural gas, oil, electric, and propane. Electric furnaces can heat the air by exposing heated elements, while other types of furnaces typically require a heat exchanger (burner system) or chamber that warms the surrounding air.
Industrial furnaces are widely used in many industries with the main ones being metallurgy, mechanical engineering, chemicals, ceramic manufacture and building materials.
Types of furnaces include batch ovens and kilns, vacuum furnaces, induction furnaces, laboratory furnaces. Common names for furnaces include boiler, heater, heating system, incinerator, kiln, stove, forge.
Anderman Industrial Ceramics supply a wide range of ceramics and refractories to the furnace construction and repair industry within Europe and North America. Materials include, but not limited to, alumina, mullite, silica, cordierite, boron nitride, zirconia, silicon carbide.