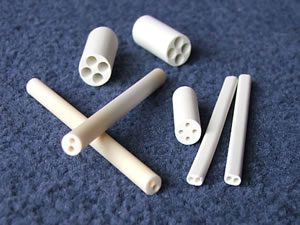 We hold extensive stocks of  electrical ceramics /  ceramic electrical insulators e.g. high purity alumina and mullite tubes:
Single and twin bore tubes
Four or 6 bore tubes
Custom multibore tubes
We carry stock of many sizes in the standard 25, 50 and 75mm lengths and also many options in long lengths, up to 2m, ready to be cut to requirement.
Ceramic electrical insulators are an excellent choice for use as feed-thru's and stand-offs as well as insulators in severe environments and custom shapes and sizes can be quoted on request.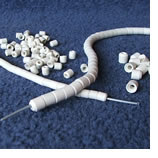 We also carry stocks of fish spine beads in all of the commonly used sizes, so should your needs require insulating a curved wire or electrode, our ball and socket fish spine beads are an excellent choice and are available in both high alumina and steatite.
Applications
Temperature measurement
Vacuum furnace parts and feed thru's
Electrical insulators
Wire separators
Stand-offs
Advantages of ceramic electrical insulators
Electrical insulation
Standard product range to select from (custom also available)
High dimensional tolerances
Chemical corrosion resistance
High temperature resistance
Very good thermal shock properties
Comprehensive range of sizes
Electrical ceramics available directly from stock
Fast deliveries
Competitive prices
Applications
Ceramic electrical insulators
STANDARD MATERIALS: 99.7-99.8% ALUMINA (EA998), 99.5% ALUMINA (EA995), MULLITE (EM60)

SEE MATERIALS MENU ABOVE FOR DETAIL
Fishspine beads
STANDARD MATERIALS: 99.7-99.8% ALUMINA(EA998), STEATITE

OTHER POSSIBLE MATERIALS: MULLITE (EM60)

SEE MATERIALS MENU ABOVE FOR DETAIL