Burners, Radiant Heat Tubes and Other Radiant Heat Ceramics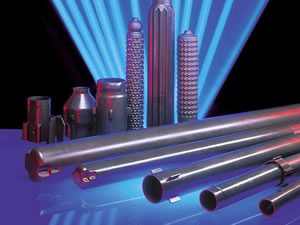 In any industrial heating process one of the most critical process parameters is to provide a carefully controlled temperature profile within the kiln or furnace. Whether the fuel is natural gas, LPG or oil, the means of heating is critical to avoid hot-spots within the kiln and provide uniform temperature operating conditions. Ceramic burner nozzles, radiant heat tubes, flame tubes and associated products are widely used for industrial combustion and furnace applications in a wide range of industries.
Oxidation resistant ceramic products are increasingly used to replace traditional metal components for improved life cycle and increased process operating temperatures. Advanced ceramic materials can provide high thermal conductivity, exceptional thermal shock resistance and good chemical resistance for industrial processes involving heating and drying. These products find extensive use within chemically aggressive (and/or abrasive) applications for chemical, cement, aviation and aerospace industries.
Ceramic burner nozzles can operate at higher temperature (compared with metal alloy) and can exhibit extended life due to the materials ceramic properties.
The process of "indirect heating", using radiant and flame tubes, transfers heat by radiation. Moreover, the combustion gases are not permitted to come into contact with the product being fired. Ceramic radiant heat tubes can withstand application temperatures up to 1,800°C (3,272°F) and can input more energy into furnaces vs. alloy radiant tubes.
Anderman Industrial Ceramics offers a substantial product range of silicon carbide based industrial and household burner nozzles for direct heating in thermal process technology. Radiant heat tubes, and other associated products, in a variety of alumina oxide, mullite and silicon carbide ( nitride, reaction-bonded and recrystallized) materials are also supplied to many industries and household applications.