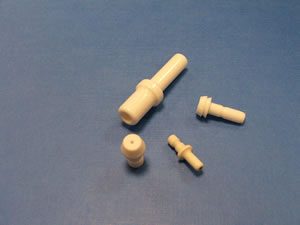 We can provide ceramic ignition electrodes and both straight and custom shaped tubes for use as insulation on igniters. These tubes may be supplied with a surface glaze if required.
We are able to deliver a range from small sizes  (Similar to the types found on home appliances such as cooker tops) to large industrial scale.
Typically made by injection moulding or isostatic pressing we can supply in quantities from 20 pieces to many millions as required.
For industrial igniters and ceramic ignition electrodes we are also able to offer a range of standard and special styles fully assembled and ready to use.
High Quality Alumina ceramic
Steatite and mullite also available
Good and repeatable tolerances
Performance tested over many years
Applications
Low, medium and high volume production
Straight or shaped parts
Glazed if required
Some standard industrial sizes can be supplied as finished igniters