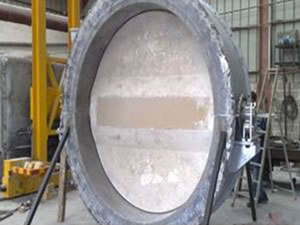 Anderman Industrial Ceramics supplies a wide range of high quality versatile pre-cast refractory shapes and castables custom engineered and manufactured with high standards.  We provide engineered refractory solutions to the molten metals and minerals industries through a diversified range of precast and castable products.

We are able to also offer a superior re-inforced product technology whereby our precast alumina materials can be pre-cast with the addition of stainless-steel fibres for increased strength and product durability. A number of pre-cast refractory shapes and solutions for steel and iron ladles are available to improve safety, refractory life, ladle availability and yield.

For aluminium manufacture full or partial precast furnace liners can be offered along with specific shapes cast to our customer's needs. Complete launder systems complement the product offering to enable molten metal transfer from furnace to point of use.
For copper melting and refining we are also able to provide refractory products that minimize refractory wear in the demanding high-quality environment of the Copper Industry.  Many factors such as the furnace type, atmospheric conditions, launder requirements and the process conditions are considered when determining the precast designs and refractory type for the industry's applications.
For the cement industry we offer precast solutions for nose ring, cooler, inlet, cyclones and air chocs nozzles. Our solutions are utilised by many customers in this market to increase ceramic lifetime, reduce maintenance cycles and reduce energy costs in furnaces.
Our extensive range of manufacturing capabilities ensures that shapes can be manufacturing to exacting dimensional control as well as a large range of sizes, from a few cm to many metres in size.
Anderman Industrial Ceramics specialise in all aspects of the supply of ceramic and refractory products for metals, chemical, cement and glass production. Our products are used throughout industrial production process chains wherever heat, wear or corrosion is involved