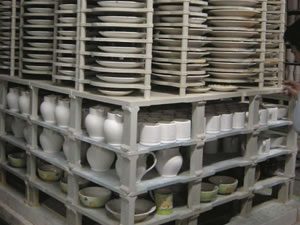 We provide Ceramic Support Systems for all the principal sectors:
Bone China
Porcelain
Stoneware
Earthenware
Sanitary ware
Some products lend themselves to Fixed Height Systems, for which we offer fixed height props and all associated refractory components.
We also offer adjustable systems, with props typically ranging from heights of 165mm to 665mm allowing anything from single-shelf to multi-shelf kiln car settings. These can be used for temperatures up to 1300°C.
Alternatively, for lower temperature firing we offer a lightweight adjustable system that is up to 50% lighter than conventional systems. Thus offering high fuel efficiency.
A range of Flue Support Systems are included and fittings can be used in conjunction with the flue support systems to allow the height to be adjusted.
Optimized ware support, thermal and physical stability, flexible setting and energy efficiency are the keywords in our design phase, where we work closely with each customer.