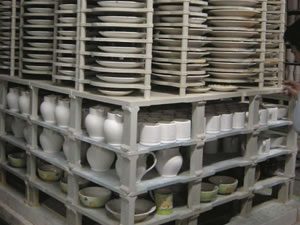 We provide Ceramic Support Systems for all the principal sectors:
Bone China
Porcelain
Stoneware
Earthenware
Sanitary ware
Some products lend themselves to Fixed Height Systems, for which we offer fixed height props and all associated refractory components.
We also offer adjustable systems, with props typically ranging from heights of 165mm to 665mm allowing anything from single-shelf to multi-shelf kiln car settings. These can be used for temperatures up to 1300°C.
Alternatively, for lower temperature firing we offer a lightweight adjustable system that is up to 50% lighter than conventional systems. Thus offering high fuel efficiency.
A range of Flue Support Systems are included and fittings can be used in conjunction with the flue support systems to allow the height to be adjusted.
Optimized ware support, thermal and physical stability, flexible setting and energy efficiency are the keywords in our design phase, where we work closely with each customer.
Multi deck systems to increase product fill
Lightweight design
Interlocking systems reducing chances of kiln furniture collapse
Applications
Standard materials
RBSiC (reaction bond)
See Materials menu above for detail
We offer a full range of components needed for all types of tableware firing, including:
Adjustable Supports – range of sizes and load bearing supports
Extruded supports
Extruded tubes
Interlocking Tableware System
Bone china biscuit profile setters
Bone china biscuit cup rings
Total foot support (TFS) setters
Earthenware bedding rings
Pin crank system for placing glazed earthenware
T&Y cranks for glaze and decorating firing
Profile setters for bone china biscuit firing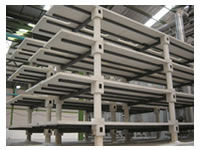 For firing of Sanitary ware we offer systems using SiC beams, extruded batts, posts and special lightweight cover batts. We calculate the correct dimensions of silicon carbide beams necessary to carry the required load.