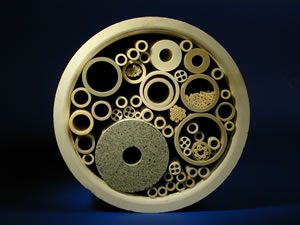 We hold extensive stocks of ceramic tubes in a variety of materials: mullite; corundum; alumina; sillimanite; mullite-bonded silicon carbide; recrystallised silicon carbide; Zirconia. Other materials are available on request.
Ceramic tubes are extensively used in furnace and kiln applications although there are many other applications were they are commonly found. The furnace tube is heated from the outside and the interior of the ceramic tube provides the work environment.
Porous furnace tubes are also used to support elements for heating larger furnaces and Kilns. Ceramic tubes are also used to provide lead outs for electrical cables, temperature measurement or as burner holes in Gas and oil fired Kilns.
Our ceramic tubes are extensively used as furnace tubes in extreme working environments for principle laboratory/analysis furnaces such as Carbolite, Leco and Lindberg. The furnace tubes are normally supplied as dense mullite (EM60) or alumina (EA998) for these applications.
We have complete in-house capabilities to supply custom-design tubes and rods with special dimensions & tolerances on request. We are able to produce extremely tight toleranced tubes through our specialized manufacturing techniques. Adding flanges, drilling holes and cutting slots in all our standard materials is also available.