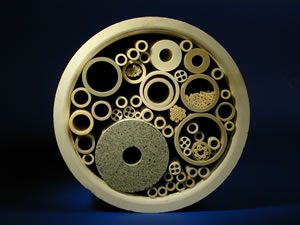 We hold extensive stocks of ceramic tubes e.g. alumina tubes. They are used for many applications including furnace tubes and can be provided in a variety of materials. Other materials are mullite, corundum, alumina, sillimanite, mullite-bonded silicon carbide, recrystallised silicon carbide, and zirconia. Please contact us if you need a different material.
Ceramic tubes are extensively used in furnace and kiln applications. There are also many other applications where they are commonly found. Furnace tubes heat from the outside and the interior of the ceramic tube provides the work environment.
Where there is internal pressure or atmosphere in the furnace, then dense products are required. Alumina tubes or Mullite tubes would be good solutions for these applications.   Dense Alumina or Mullite furnace tubes are a little more prone to thermal shock than porous versions, so heating rates need to be carefully controlled to prevent cracking.
Our ceramic tubes are extensively used as furnace tubes in extreme working environments. For example principle laboratory/analysis furnaces such as Carbolite, Leco and Lindberg. The tubes are normally supplied as dense mullite (EM60) or alumina (EA998) for these applications.
Porous ceramic tubes are also used to support wound elements for heating larger furnaces and Kilns. Ceramic tubes are ideal to provide lead outs for electrical cables. Also for temperature measurement or as burner holes in Gas and oil fired Kilns. Anderman also supply custom ceramic burner components in Alumina or Silicon carbide.
We have complete in-house capabilities to supply custom-design tubes and rods with special dimensions & tolerances on request. Tubes with extremely tight tolerances are available through our specialised manufacturing techniques. Adding flanges, drilling holes and cutting slots in all our standard materials is also available.
Lead through ceramic tube products
Lead through tubes are typically a tube with a flange at one end. These are often used to provide a passage through the wall of a furnace to enable burner or thermocouple passage.
Due to the large amount of variation in the requirement, these tubes are made to order. Most common tube sizes can be offered with a flange added.
Standard furnace tubes
Standard furnace tubes are round, but other shapes are available for manufacture. We supply grooved outer diameter tubes, oval, square, rectangular and hexagonal shapes.
Multi bore ceramic tubes are also available.
Available in diameters from 0.03″ (0.7mm) – 21.6″ (550mm)
Available in length from 0.01″(0.25mm) – 10ft (3050mm)
Comprehensive range of sizes
Available directly from stock
Competitive prices
Custom shapes & dimensions
Flanges, drilled holes, slots
Applications
Standard materials
99.7-99.8% alumina (ea998), 99.5% alumina (ea995), mullite (em60), porous mullite (em 60p), corundum (em80p)
See materials menu above for detail
Applications for ceramic tubes
Furnace work tubes
Heating element supports
Temperature measurement
Kiln furniture
Vacuum furnace parts
Electrical insulators
Lead through tubes
Advantages
High dimensional tolerances
Chemical corrosion resistance
High temperature resistance
Very good thermal shock properties