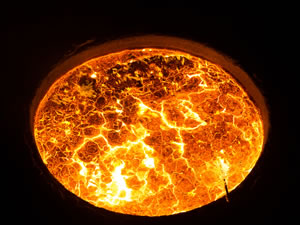 Industry specialising in the production of nickel, cobalt and titanium based alloys, and many more, for use in the aerospace, power, automotive, sports and medical industries worldwide. Ceramic and Refractory products are heavily used in Vacuum Induction Melting (VIM) or Air Melting (AM) of superalloys. Alloy products manufactured include ingot, cast components or powder feedstock for secondary manufacturing processes. All facilities are regulated by an extremely demanding customer base.

Anderman Industrial Ceramics has developed close working relationships with international superalloy producers and the major vacuum furnace OEM's. Our goal is to supply cost effective quality product solutions that enhance the integrity of our customers operation and final product quality. Final product quality, with minimal ceramic inclusion, is critical to superalloy and great emphasis is put on achieving this at the customers we partner with.

Our state of the art volume manufacturing co-operations, have established Anderman Industrial Ceramics as a key supplier of product to this industry, with annual output capacity in excess of 40,000 tons of refractory and ceramics. Our growing reputation is based upon consistent high quality product, consistent supply management achievements and a willingness to undertake specific developments for customers. We are able to produce specialist development and prototype product parts, utilising state of art design technology, through to full annual volumes delivered at a frequency required by the client.

We supply a wide range of melting, holding, pouring, distribution and temperature measurement ceramics for superalloys including, but not limited to, furnace linings, crucibles, tundish and launders systems, pouring distribution products.

In addition to ceramic and refractory parts the business is currently undertaking a market development of abrasive finishing products in the form of grinding and cutting wheels. These are manufactured in a high quality/volume facility which is expanding activities into this market sector.