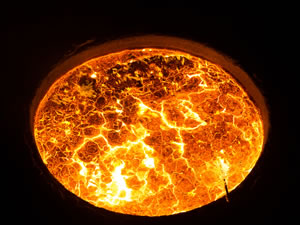 Traditionally melt furnace linings have been made using a ram material or bricks.   Although the materials are low cost the fitting and replacement turnaround time can be extensive and in regard to the brick lining a significant emphasis on the function is down to the skill of the workforce installing them.
Anderman, working with our partners have considerable experience in designing, manufacturing and installing pre-cast linings that have significant advantages in turnaround time and ease of installation.
These can be installed into the furnace body or in some cases transfer ladles and in many cases provide an overall cost benefit as lining life and simple installation can make this a very cost effective approach.
Ideally suited to air and vacuum induction furnaces we are able to supply High grade Alumina and Zirconia toughened Alumina (ZTA) materials.   We also have a range of pre-cast materials such as silicon carbide/Alumina blends and re-enforced structures for use in non-induction units.
Sizes range from several Kilo capacity to 20 tonnes.
For small capacity furnaces we also supply a range of crucibles and for laboratory furnaces we supply furnace tubes, element support tubes, and muffles together with spacers and fittings.