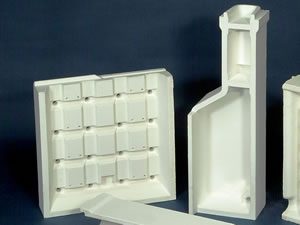 We are suppliers of refractory grade ceramic launders and tundish products. These refractory tundish and launder parts can be manufactured either as single piece or multiple joinable sections to enable controlled flow of molten metals during the casting process.
Our tundish and launder products can be supplied pre fitted with reticulated foam filters and flow control dams and nozzles if required.
Our precision development technology enables the capability to hold very tight tolerance where required, with a surface finish that is as expected in such a high value application. Our experience within the supply of ceramic tundish, launder and refractory products to a multitude of industry sectors provides extensive research and empirical data supporting the benefits of our product used in application included a reduction in re-work needed and in scrap yields as a result of unwanted refractory finding its way into the finished ingot.
Our experienced technical engineering team are able to assist in the development and amendment of existing design whether the objective be a cost down exercise or the desire to achieve improved flow rates. Historically, these launder and tundish parts are manufactured in grades of 55% alumina up to 96% alumina, all dependent on customer requirement, and our technology lends itself to enable consistent, quality finished products in which ever the selected grade. Our many years of supply experience provides the knowhow of packing and shipping, to ensure container either part or full container delivery arrives at the required destination irrespective of where ever you're situated in the World.