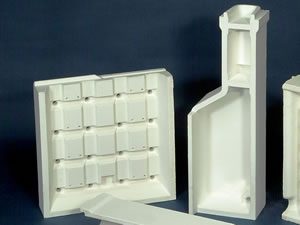 Another part of the metal distribution system to assist in the controlled flow of molten alloy post melting are hot top boxes, sometimes also referred to as a distribution box. The purpose of this item is to allow the molten alloy to find its way through a series of baffles and weirs, in what looks like a labyrinth type design. Then to fill the metal tube moulds that are held in a fixed position, with the assistance of the base of the hot top box, as it sits directly on top of the series of tube moulds.
Generally, hot top boxes are supplied in a 55%-65% alumina formulation that we have created to serve this sole purpose. Close controls on porosity, surface finish, material chemistry, has enabled Anderman Industrial Ceramics to become a global leader in the supply of hot top boxes, and an integral part of our customers supply chain.
Our experienced technical engineering team are able to assist in the development and amendment of existing designs to achieve the desired objective, with the assistance of our in-house mould manufacturing facility enabling us to produce complex refractory shapes.
Used in air and vacuum casting of special super alloy steels, and also for ferrous and non-ferrous metals.