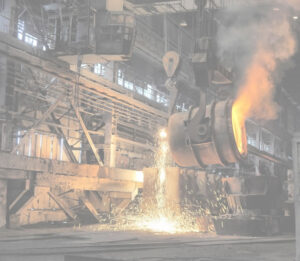 Primary steel making converts liquid iron into steel by either a basic oxygen furnace (BOF) process or by use of an electric arc furnace to melt scrap steel or directly reduce of iron oxide. Secondary steelmaking is a refining process in which alloying metals are added and impurities removed, often conducted in reformer furnaces. Following this the liquid steel alloy needs to through a moulding process to form final shapes dictated by the end user of the product.

The challenges facing steel making are large and volume related. From a ceramics perspective the challenge is containing and distributing molten metal at temperatures in excess of 1500 C. As the ceramic does not add to the steel value it needs to perform in a cost-effective way per ton of steel. The modern steel plant is also equipped with ancillary operations, such as coke production, where the use of ceramics plays a significant role. Experience has shown us that dedicating time to ceramic design and selection can result in a significant cost benefit to the operation.

Anderman Industrial Ceramics supply a wide range of ceramics and refractories to the steel industry within Europe and North America. Materials include Magnesia carbon, magnesia chrome, alumina magnesia and alumina for blast furnaces, converters, electric arc furnaces (EAF) and ladles.

We are also developing supply of oxide based ceramics and refractories for use in applications such as channel castings, ladle walls, ladle crowns, bottom of ladle, EAF roof, nozzle brick.

For ancillary operations such as coke manufacture Anderman has established itself as a primary supplier of Fused Silica products and Zirconia/alumina nozzles.