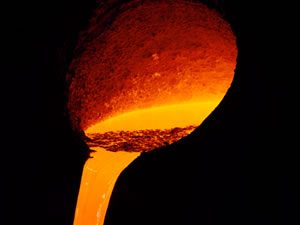 There are many non-ferrous materials covering every metal and alloy that does not contain iron. Non- Ferrous metals are also non-magnetic and do not rust on being exposed to oxygen and moisture but can suffer some contamination and surface corrosion in certain conditions. Non-ferrous metals include aluminium, copper, tin, titanium, zinc and lead. There are also the many alloys formed by combining different mixes of metal, examples including alloys like brass and bronze.

Like all metal processing industries, the non-ferrous industry faces similar issues in terms of refining, melting, containing, and distributing molten metal at temperature. Often these types of alloy are highly corrosive to any equipment in contact adding more complexity to the handling when molten. Consideration and the correct selection of ceramic composition has been shown to produce significant benefits for melting and distribution processes in this area. From the smelting and refining of the raw materials through the alloying and forming of product, contact areas are often best as ceramic interfaces providing both insulation and protection of equipment. From furnace linings to transfer ladles and nozzles, the selection of the right ceramic is critical to getting the best results.

Non-ferrous metals are also heavily recycled due to the initial refining costs and therefore remelt of scrap is also an important industry with its own challenges for example varied size and shape of the charge material causing additional mechanical damage to crucibles and linings.

Anderman Industrial Ceramics has considerable experience in supplying ceramics and refractories for the production of non-ferrous metals, particularly in copper and aluminium. History has taught us that attention to refractory design and material selection can pay large dividends in manufacturing of these metals.