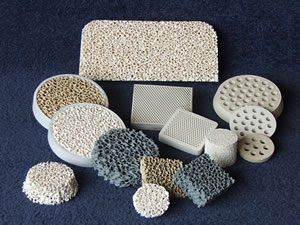 CUSTOM SOLUTIONS IN REFRACTORY CERAMICS
Anderman Ceramics together with our partners have an extensive history in producing and supplying our products e.g. refractory ceramics to the super alloy and steel industries.
Critical properties of refractory ceramics are achieved through a combination of material, method of manufacture and required shape. Together, the Anderman in house technical team and our extensive network of manufacturing partners are able to help design and specify the best combination to suit the application.
We are able to offer refractory ceramics and other products in a wide variety of materials (See materials section opposite), manufactured by almost all processes including Casting, Isostatic pressing, Extrusion, Pressing, Injection moulding, Vacuum forming and others.
Examples of areas where we have helped customers reduce costs and optimise performance below represents only a proportion of the types of project we are involved with. If you have a requirement or a problem, we may be able to help.
METAL MELTING
We supply a range of induction melting crucibles for specialist steel, superalloy and the precious metals industries.