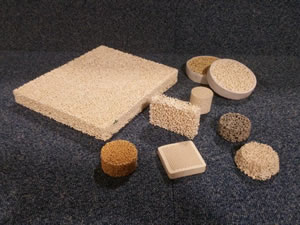 Anderman Industrial Ceramics are suppliers of high performance reticulated foam ceramic filters. These are delivered to many industry sectors, most notably in the field of superalloy melting/investment casting at high temperatures > 1600 C. Other applications include speciality steels and alumina production at lower temperatures.
Our filters can be manufactured in a variety of shapes and sizes with in the porosity range of 10 to 80 PPI with the most common range from 10 to 30 PPI. This enables controlled flow of molten metals during the casting/filtration process. Sizes can range from below 20cm3 to 400 x 400mm x 50 thickness. We are also able to provide precision machined filter technology where micro porosity or greater pore control is required by the application.
Filters are supplied in a variety of materials including, but not limited to,  zirconia, alumina toughened zirconia, alumina, silicon carbide, mullite and cordierite.
Anderman has capability for precision manufacturing technology. This enables very tightly controlled tolerance dimensions where required. Additionally the advanced manufacturing process provides a fine, controlled, surface finish that is necessary in the high value applications in which the products are used.
Our experience in the supply of ceramics to a multitude of industry sectors provides us with extensive research and empirical data. Key to this is the benefits of our product to produce a reduction in re-work needed, and reduced scrap yields, as a result of unwanted refractory finding its way into the finished cast product.
Applications
Investment casting
Iron and steel production
Aluminium production
Low pressure die casting
Gas filtration
Liquid filtration
Catalyst supports
Heat treatment setters
Advantages
Non contamination of filtered medium
Controlled pore and filtration sizes
Large volume manufacturing capacity
Industry knowledge and experience
Standard materials
Zirconia toughened alumina, silicon carbide)
Zirconia
Alumina
See materials menu above for detail