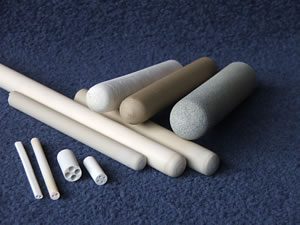 Thermocouple protection tubes and other ceramic thermocouple parts are available in a variety of materials: mullite; corundum; high purity alumina, mullite-bonded silicon carbide, and zirconia.
Typically a thermocouple tube is closed one end and used to protect the internals from direct heat. Tubes can be stacked inside each other to provide extra protection and insulation.
Other thermocouple parts include fish spine beads, lead through tubes, short and long insulators (Single or multibore tubes) and electrical connection blocks.

We have extensive stocks in the UK and USA of all the popular imperial and metric sizes in Mullite and Alumina. We are able to cut to length as required. Non standard sizes and materials are also available on request.

Thermocouple protection tubes from stock are available in small quantities or one off as required. Large quantities may be available from stock or on a short lead time.

We are also able to stock on consignment for call off if required.
Advantages of ceramic thermocouple tubes and parts
Electrical insulation
High dimensional tolerances
Chemical corrosion resistance
High temperature resistance
Very good thermal shock properties
Straight, angled or notch cut ends
Comprehensive range of sizes

Available directly from stock

Fast deliveries

Competitive prices
Applications
Standard materials:
99.7-99.8% alumina (ea998), 99.5% alumina (ea995), mullite (em60)
---
Other possible materials:
zirconia (ezy 88, ezy 94), silicon carbide (ec 70p, ec 90p)
See materials menu above for detail