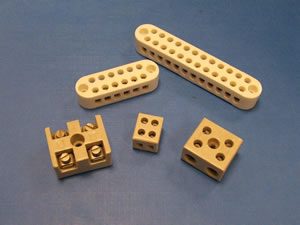 For connecting wires together we are able to offer a range of Custom ceramic bodied electrical connector blocks. These products are suitable for harsh environments including higher temperatures than the standard products. 2, 4, 6 and 12 way ceramic connector blocks have been produced and are supplied complete with metal screw connectors fitted.
These can be supplied in 5, 15 and 30 Amp sizes and can be manufactured with a glazed finish if required.
We have a limited range of standard sizes available (please send a request for specific requirement) but most are made to suit specific customers.
Ceramic bodied electrical connector blocks are able to provide better protection for hot appliances and for higher voltage applications.
Medium and high volume possible
High quality
Special fixing features can be incorporated
Applications
Standard materials
95% alumina, steatite
See Materials menu above for detail