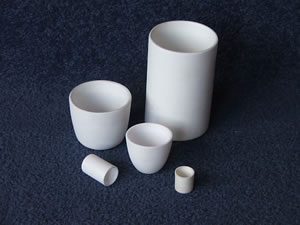 We stock and supply high purity zirconia, rare earth and alumina crucibles in various shapes (both flat and cylindrical bottom, conical or straight wall) as well as other labware items such as ignition dishes, laboratory boats, basins and lids. We have a wide range of standard sizes and are also able to supply custom size and shaped products.
Our dense ceramic crucibles range extends in volume capacity from 0.5 ccm to 1700 ccm. Larger sizes are also possible.
To suit the application requirements, we are also able to supply and deliver labware in a range of alternative materials including:
Dense Yttria or calcium stabilised zirconia
Rare earth's
Zircon
Mullite
Yttria
Hafnia
Fused Silica
Porcelain
Quartz
These materials are typically cast or pressed, dried and fired. Quartz products are typically hand shaped at temperature. Quartz products can be shaped into complex forms in both low and medium volumes so are ideal where custom product is required.
Our wide range of ceramic materials both standard and non-standard will meet your application requirements. Please discuss with us what it is you need.