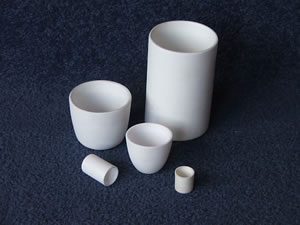 We stock high purity zirconia and alumina crucibles and other laboratory ware including various ceramic crucible options, ignition dishes, boats and lids. We can produce custom size crucibles and other standard ceramic materials on request. (materials include alumina zirconia, zircon, mullite, rare earths like yttria and hafnia, quartz, fused silica, porcelain)
We also provide refractory porous alumina and zirconia crucibles for superalloys and other metals melting, precious and semi-precious melting, glass melting, etc.
Our standard range includes isostatically pressed or rammed crucibles and a range of speciality high alumina refractory grade crucibles with high performance characteristics.
Our wide range of ceramic materials both standard and non-standard will meet your application requirements. Please discuss with us what it is you need.