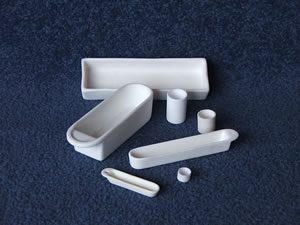 Laboratory-sized alumina crucibles are always held in our extensive stocks. Also ignition dishes, boats and lids can be  supplied in high purity alumina. We can deliver custom sizes and other materials; including zircon, zirconia, mullite, quartz, fused silica, porcelain and rare earths.
We offer an extensive range of standard sizes in Alumina and are able to manufacture custom sizes and shapes rapidly and economically (Please let us know your requirement) in high quality recrystallized Alumina and in the above materials. 
Our range of ceramic labware products are known for the high quality materials we use and excellent production processes including pressing, ISO pressing and slip casting. Withstanding temperatures of up to 17500C, our alumina crucibles and other labware products offer exceptional chemical and corrosion resistance. Also high hardness factors, durability and excellent wear resistance.
We also offer an extensive range of replacement furnace tubes in alumina and quartz. 
We can also offer a range of labware support structures, plates and refractory grade alumina crucibles.
Please contact us at sales@andermanceramics.com for a quotation.

Or click the Standard Product button to see our standard stock sizes.
Square dish and square fitting lid
Comprehensive range of sizes
Available directly from stock
Fast deliveries
Competitive prices
Standard materials: 99.7-99.8% alumina (ea998), 99.5% alumina (ea995)
Other possible materials: 99.9% alumina (ea999), 95% alumina (ea95), yttria
See Materials menu above for detail on options for alumina crucibles and other labware products.
Advantages of our alumina crucibles and ceramic labware
High quality materials and processes
High temperature resistance
Extremely corrosion resistance
Electrically non-conductive