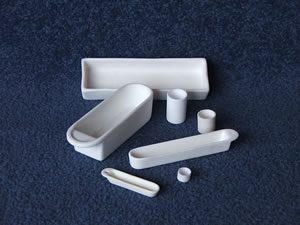 We hold extensive stocks of laboratory sized ceramic alumina crucibles. Also ignition dishes, boats and lids supplied in high purity alumina. We can deliver custom sizes and other materials; including zircon, zirconia, mullite, quartz, fused silica, porcelain and rare earths.
Our range of ceramic labware products are known for the high quality materials we use and excellent production processes. Withstanding temperatures up to 17500C, our alumina crucibles and other labware products offer exceptional chemical and corrosion resistance. Also high hardness factors, durability and excellent wear resistance.
Please contact us at sales@andermanceramics.com for a quotation.

Please click the Standard Product button to see our standard stock sizes.