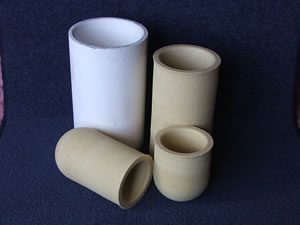 Anderman currently supply a range of High Alumina and Zirconia refractory crucibles.
Isostatically pressed Mgo stabilised Zirconia crucibles
Alumina/Zirconia composite refractory crucibles
High Alumina refractory crucibles (Up to 97% Alumina)
We also deliver a range of other refractory metal casting supplies such as pouring cups and filters. Typically these refractory crucibles and metal casting supplies are used in vacuum melting operations but many are also used in Air melting foundries.
Applications include:
Special steels (Inconel and stainless)
Nickel and cobalt based superalloys (Air and vacuum melting)
Precious metals
We have a wide range of standard sizes and shapes available and can manufacture custom sizes or crucibles with additional formed features.