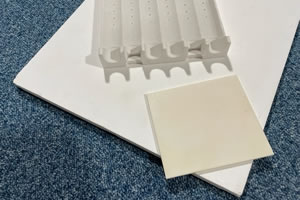 Anderman Industrial Ceramics offers a full range of Sintering Plates as solutions for firing support systems during furnace sintering processes. Sintering conditions can be reduced atmosphere, oxidizing, neutral, or vacuum. Temperatures up to 1700ºC and up to 1500bars HIP pressure load. Our ability to produce sintering plates tailored to a customer's requirement sets us aside from others.
Products are manufactured using varying methods inclusive of dry pressing and isostatic pressing. Our post firing CNC machining capabilities enables us to hold tight dimensional tolerances and flatness specifications, and provide a bespoke customer solution as required.
With low tooling and reduced engineering costs for new dimensions, or an extensive range of already produced plates, we are able to supply volumes ranging from prototype/sample approval through to large-scale production, as well as having extensive experience within this field of application to support our customers.
Supplied in a range of material compositions inclusive of 90-99.9% alumina formulation and stabilized zirconia (yttria, magnesia or calcia).