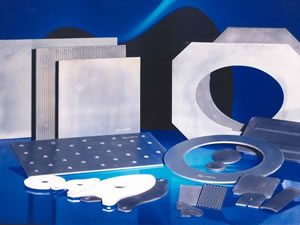 SiC kiln furniture can create a more efficient use of the available kiln space and a saving in energy due to a reduction in the thermal mass.
No porosity, therefore excellent oxidation and corrosion resistance 
Very good thermal shock resistance 
High modulus of rupture 
Stability of shape up to the maximum operating temperature (excellent long term creep-resistance) 
Low mass 
High degree of reliability and economy in service 
High surface quality 
Clean inner surfaces (no residue from the silicon zing process)
Batts, plate-setters and lavi-setter
SiC kiln furniture has excellent stability of shape and is a material of choice for fast firing applications (e.g. tableware production). It's proven reliability in service owes much to its high thermal conductivity and high strength.
Excellent oxidation and corrosion resistance
Very good thermal shock resistance (which enables shorter firing cycles)
High modules of rupture
Stability of shape up to the maximum operating temperature (excellent long-term creep resistance)
More efficient use of available kiln space due to enhanced setting density
No contamination of ware being fired
Low mass car superstructures
High degree of reliability and economy in service
No porosity, therefore excellent oxidation and corrosion resistance
Very good thermal shock resistance
Low mass
High degree of reliability and economy in service
Kiln car superstructures
Applications
Standard materials
Cordierite, alumina, nsic (nitride bond), rbsic (reaction bond)
See materials menu above for detail