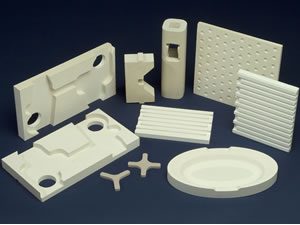 Anderman offers a wide range of Cordierite kiln furniture for use in various applications including technical ceramics, tableware, sanitaryware, powder metals, medical, heavy clay, grinding media, catalysts etc.
Anderman Cordierite Kiln Furniture and kiln plates can be used for firing of products across a wide range of applications and industries.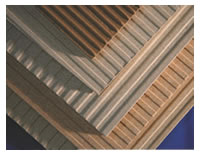 Kiln furniture is a generic term to describe products used to support an item during a heat treatment process.
The term "ceramic kiln furniture" is specific for the white ware industries, that is Sanitaryware, tableware etc.
Typical Products
Batts
Plain batts
Plates
Perforated Multi-hole batts
Extruded / hollow batts
Pressed batts
Ribbed / grooved batts
Featured batts and plates, including recesses for location and cup placing.
Machined shapes – We offer the machining of specialist shapes in lightweight cordierite material, ideal for prototyping or short runs of intricate shapes
Lightweight design
Wide range of existing shapes
Lightweight materials
Fast track prototyping
Design capability
Applications
Materials for kiln furniture
Standard materials: cordierite, alumina, nsic (nitride bond), rbsic (reaction bond)
See materials menu above for detail
Cordierite / Mullite Are minerals formed at high temperature by the reaction of alumina silica and magnesia.
Cordierite products have a low thermal expansion, which is necessary when firing products quickly through a kiln.
Mullite Gives the product strength at high temperatures and resistance to bending under load Manufacturing of products supplied by Anderman Ceramics are produced in one of two ways:
Pressing – Dry pressed products made using hardened steel tools and hydraulic presses to give high tolerance end product.
Extrusion – Allows for manufacture of "hollow" batts and tubes to give weight reduction, whilst maintaining strength.
Industries Served
Tableware Industry Tableware support systems can be designed to suit customer needs. We are able to offer Lightweight adjustable systems up to 50% lighter than conventional systems for low temperature firing. These systems incorporate posts with slots which allow shelves to be placed to giving flexible placing heights for varied product loading. We also have a wide range of Bone china biscuit profile setters, Bone china biscuit cup rings,Total foot support setters, and Earthenware bedding rings.
Sanitaryware Industry We can provide complete Sanitaryware systems using extruded batts, silicon carbide beams, Posts and Splicer Caps. We also offer specialist support items such as bowl risers and placing batts.
Powdered Metals Batts used as carries during sintering of powder metal parts. Good abrasion resistance provides long life on furnaces.
Glass Large extruded batts used for supporting glass, especially useful for "slumping". Cordierite material much harder wearing than other materials available for this application.