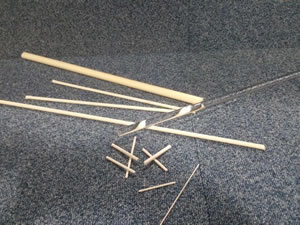 Anderman Industrial Ceramics supplies a diversified range of ceramic casting pins, rods and tubes to a multitude of industries worldwide. Used for high temperature supports in the production of complex super alloy investment casting processes.
We hold extensive stocks of fine grained alumina, mullite and zirconia in tube and rod forms. All of our products can be machined to custom sizes on request. Sizes range from 0.3mm diameter rods/tubes up to 1m diameter tubes in lengths from several mm long to over 2000mm.
With excellent electrical insulation and high temperature resistance our zirconia, alumina and mullite rods/tubes have very good thermal shock properties and can withstand temperatures up to 1700o C.
Our casting rods and tubes are manufactures by extrusion, casting or pressing and are made from a high purity material and used in applications where product strength, Dimensional stability and thermal shock are critical parameters for the casting process.  Custom profiles are also available such as Oval, Square, Rectangular, Hexagonal or other.
Priced by the inch/mm or by custom shape, our casting rods and tubes can be length specific, according to our customers needs.

Please click our size list link above to see our standard stock sizes.
Advantages
High strength support properties
High dimensional tolerances
Chemical corrosion resistance
High temperature resistance
Very good thermal shock properties
Priced by the inch/mm or custom shape
Range of diameters, shapes and lengths
Large volume capacity
Applications
Investment casting
Heat treatment
Chemical and industrial processing
Instrumentation
Casting of alloys
Standard materials: 99.7-99.8% alumina (ea998), 99.5% alumina (ea995), mullite (em60), zirconia (ezy 94)
See materials menu above for detail