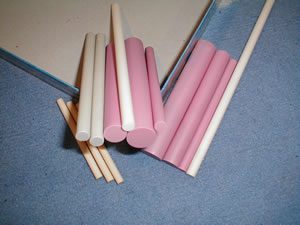 We hold extensive stock of fine grained alumina rods and ceramic rods in a variety of materials; 99.8%, 96%, Pink Alumina, Zirconia (Yttria stabilised). Our rods / solid bars can be machined to custom sizes on request.
With excellent electrical insulation and high temperature resistance our zirconia and alumina rods have very good thermal shock properties and can withstand temperatures up to 1700o C.
Our alumina rods / solid bars are made from a high purity material and used in applications where electrical, thermal or corrosion resistant properties are essential.
Priced by the inch, our rods can be length specific, according to our customers needs.

Please click our size list link above to see our standard stock sizes.