Anderman Industrial Ceramics has launched a new subsidiary company Anderman Ceramics China Ltd. The company is based in Hong Kong with regional offices established in Shenzhen and Beijing.

Anderman has been working in China for 15 years developing integrated supply line management solutions for its global industrial ceramics activities as well as a growing base of customers within the China mainland. The creation of a subsidiary company is envisaged as the next stage in the evolution process for the company.

Registered Official Office:
Anderman Ceramics China Ltd.
10/F, Chun Wo Commercial Centre,
23-29 Wing Wo Street Central,
Hong Kong
China
Company License No. : 2038104
About this new development in China, Anderman Ceramics' MD, Dr John Verrier explains:
"We have been working in China for some time now and developed very strongly managed supply chains for our industrial ceramics customers. Our customers have encouraged us to take this next step in order to enable the company to expand its activities and add further capability to our supply solution for them. It promises to be exciting times for both, ourselves our customers and our supply partners."
Our regional offices in Beijing and Shenzhen have capabilities for procurement, expediting, logistics, quality inspection and financial services.

Beijing office is managed by Ms Esso Khulan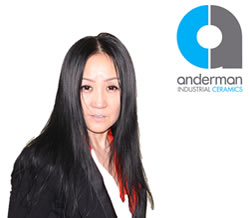 Esso Khulan has been with the business for 3 years and is an experienced business professional dealing with supply chain management and quality inspections. She has language skills in Chinese, English, Russian, Mongolian.
Contact:
Courtyard No 9,
Green Lake Garden,
Unit 2-1221,
West Gate of Chaoyang Park,
Chaoyang district - Beijing 100026
Linked


Phone:+ 86 (0) 135 5274 0330
Email: esso.avangard@yahoo.com

Shenzhen office is managed by Jennifer Yang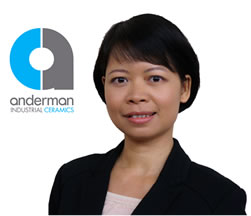 Jennifer Yang has been with the business for 4 years and she is a procurement
professional who has worked in many specialist industries related to the ceramics business.
Contact:
Room 602, Building No.7, Yard 2018,
Cuizhu Road, Luohu district
Shenzhen 518000
Linked


Phone:  +86 (0) 135 1054 3762
Email: jennifer_anderman@163.com