Offer Type : Stock clearance
Offer code: A009
CERAMIC TUBES – MULLITE (EM60)
Impervious material - Maximum working temperature
1400 C.
Electrical insulation - Chemical corrosion resistance
High temperature resistance - Good thermal shock properties
95 mm OD  X 80 mm ID  X 1000 mm L  Qty 20pcs
Prices depending on quantity, please  Click to enquire
Offer Type : Stock clearance
Offer code: A005
Ceramic tubes - SILLIMANITE /CORUNDUM / MULLITE BONDED SILICON CARBIDE
Due to manufacturing over runs the following Ceramic tubes, in limited quantities are being made available at substantially discounted prices.
Material EM60P (Sillimanite)
25mm OD x 15mm ID x 15mm Long, Open both ends, 490 pieces @ £170 Lot price
55mm OD x 45mm ID x 200mm Long, Open both end With flange at one end, 70 pieces @ £14 each
Material EM80P (Corundum)
17mm OD x 12mm ID x 480mm Long, Open both ends, 87 pieces @ £5.50 Each
75mm OD x 30mm ID x 10mm Long, Open both ends, 24 pieces @ £8.70 Each
Material EC70P (Mullite bonded Silicon Carbide)
23mm OD x 17mm ID x 897mm Long, Closed one end COE (but they can be supplied Open both ends OBE), 35 pieces @ £28 Each
31mm OD x 25mm ID x 447mm Long, Open both ends, 56 pieces @ £14 Each
Offer Type : Stock clearance
Offer code: A002
Glazed Alumina Insulators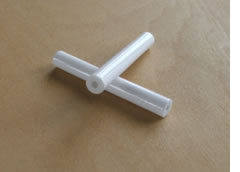 High quality Glazed 95% Alumina insulators offered in box quantities. 2 sizes available.
Multiple box orders receive 5% discount on prices below.
Delivery cost not included in the prices below.
Counter offers will be considered.
a) 8mm (OD) x 2.5mm (ID) x 60mm (Long)
Box quantity 320
Offer price £ 45.00 per box
b) 6mm (OD) x 2.5mm (ID) x 35mm (Long)
Box quantity 1,000
Offer price £ 75.00 per box
Offer Type : Stock clearance
Offer code: A007
Zirconia crucibles for platinum melting
Due to overstocking the following crucibles are being offered to the market by our UK Office. They can be cut to obtain lower crucibles or tubes.
No reasonable offer will be refused.
Material EZY93P (Calcia stabilised zirconia – 4% CaO - type FSZ – 25% porosity)
Round bottom cylindrical crucible, isostatically pressed for higher quality and multiple casts, OD 98mm x ID 76mm x Height 198mm (Quantity available 85 pieces).
These crucibles are commonly used for melting platinum in induction furnaces around 1825°C/ 3320°F. This coarse grains EZY93P material is especially designed for fast melting cycles without cleaning phase (1 to 2 hours or less) with high thermal shock. We can also supply crucibles in EZY95P material for normal melting cycles (3 to 6 hours) with a cleaning phase made under special gas conditions.
Sales of these crucibles are on a first come first served basis and are FOB our facility in UK.
Offer Type : Stock clearance
Offer code: A001
6 & 12 Way Ceramic Connector Blocks
(5 amp)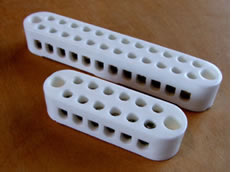 These high quality 6 way and 12 way ceramic connector blocks are ideal for use in environments where plastic is not suitable.
This is a limited stock offer on a first come first served basis. Price excludes transport.
Click the links below to enquire about an item. Please state the offer code in your enquiry.
6 way connector (10 off) £1.60 each
6 way connector (50 off) £1.25 each
6 way connector (100 off) £1.05 each
12 way connector (10 off) £2.10 each
12 way connector (50 off) £1.85 each
12 way connector (100 off) £1.60 each