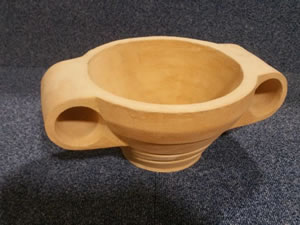 As part of our extensive offering of ceramic products to the investment casting industry, Anderman Industrial ceramics is able to offer ceramic pouring cups used in the distribution of molten metals.
Ceramic pouring cups and filtering cups are made of high quality ceramic materials pressed then sintered at high temperature. Typically used to provide a mould intake for investment casting under demanding conditions.
Pour cups are suitable for casting a range of alloys such as ferrous, nickel aluminium and bronze based metals, and can be used for some superalloys as used in aerospace, IGT, automotive and medical industries.
Pouring cups can be conical, shoe or custom shapes and can have specific filter fitment positions. Most are pressed with outer grooves to provide better mechanical adhesion to the ceramic wax shell to which they are attached. They can also be fitted with lifting holes or supports to allow easier manual or automated handling of the mould both through the construction of the mould and through to removal of the finished casting.
Pour cup compositions are typically from various grades of Alumina / Silica composites but can also be high alumina or other materials if required.
Advantages
High mechanical strength
High chemical purity of raw materials
Smooth working surface to reduce erosion
Precise tolerance control
Reduced mould inclusions
Significantly reduced wax consumption
Controlled metal flow into mould
Combine with ceramic filters
High thermal shock performance
Applications
Investment casting
Molten metal flow control
Singular and multiple hole hot to boxes for bar stock production