Ceramic Coating products
Anderman Ceramics offers a selection of high performance and revolutionary refractory ceramic coating options and corrosion, abrasion and chemical resistant coating products, which can be applied in a large range of materials and components used in different industries.
In most worldwide industries, damage to equipment and machinery due to abrasion, corrosion and chemical attack is a serious issue. Research has shown that up to 70-80% of all equipment failures are as a result of surface erosion. For this reason, there is a requirement for a method of maintenance which will prevent further surface erosion, and that method is Aluma Coat.
This polymer based ceramic coating compound has been specially designed as corrosion and abrasion resistant coating. It will also withstand chemical attack, and the two variations which can be applied by a variation of different methods will provide resistance up to 150oC, so are ideal for any industry where abrasion and corrosion are a serious problem.
Main industries served
Mining and minerals
Food
Shipping industry
Power Industry
Cement industry
Chemical industry
Gas industry
Nonferrous Metal industry
Iron and steel industry
Pulp and paper industry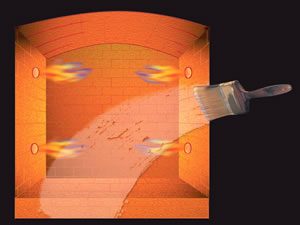 Zircoat is a unique refractory ceramic coating compound, which is a great benefit to the industries where corrosion and erosion is a severe problem for refractories and kiln steel shells. It seals cracks, preventing heat loss, and therefore saves heat energy and reduces fuel costs increasing considerably the service life of refractory linings and thermal heating systems.

Zircoat is a new specially formulated refractory ceramic coating cement rich in Zircon, and is particularly effective for uses in industries where high temperature resistance is essential. It has been tested to continue to provide protection from slag adhesion as well as chemical resistance and continued strong adhesion up to temperatures of 1500oC and 1800oC depending upon the grade of Zircoat that you choose, making it ideal for uses in combustion chambers, kilns and furnaces.
NB – Minimum order quantities apply.
Variations
Zircoat HT. This coating is meant only for refactories used in furnaces and kilns and withstands temperatures up to 1800oC.
Zircoat M. This coating is used in furnaces and kilns as well as on metals, withstands temperatures up to 1500oC.
Advantages
Reduces slag adhesion
Seals cracks preventing heat loss, considerably saving heat energy and reducing fuel cost
Considerably increases service life of refractory linings and thermal heating systems
Can be applied and used in lots of different industries and on lots of different components
Excellent resistance to powdering
Forms gas-tight surface
Odourless and non-hazardous
Proven ability through previous case studies
Rich in zircon
Withstands high temperatures
Good adhesion
Excellent dry strength
Good chemical resistance
Erosion/corrosion resistant
Ease of application
Main applications
Kiln and Furnace door maintenance and repair.
Kiln and Furnace wall / floor repair
Protection linings for industrial incinerators and boilers
Protection linings for domestic log burners and wood fired stoves
Chemical plant process improvement
Crucible protection in molten metal production
Kiln repair and protection
Tundish lining repairs in molten metal production
Zircoat M for coating of cement furnace burner pipe
Zircoat M for inside of metal chimneys to protect from flue gases
High temperature corrosion and erosion protection
Preparation
Simple preparation, can be applied by trowel, brush or spray. Mix powder with water to form paste, and add water (depending upon required consistency for method of application). Leave to air dry for 24 hours then slowly raise the temperature to 1200oC (increasing by 25oC per hour), and rise to operating temperature (increasing by 50oC per hour).